White Fronted Goose(Gé Bháneadanach) £1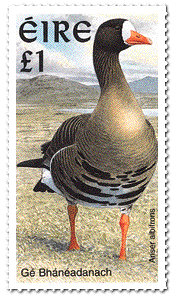 The Greenland White fronted Goose goose comes from Greenland. They are large powerful birds. They breed in the arctic, where the gosling feed mainly on young shoots of grass and hedges. A gosling is a baby goose.
They come to Ireland every winter from the end of September on, until April. Then they fly back to Greenland.
They are called the white fronted goose because of the large patch on their forefront. The geese make their nests close to lakes or damp ground. Each pair has its own territory, which it defends against intruders. Their eggs are laid in the end of May.
The goose is the mother bird. The gander is the father bird.
The birds do not eat very much during there breeding time. They lose a lot of weight, when the young birds are born.
After a few weeks, the mother and father take them to the lake, where there is plenty of food and water where they are shown how to swim. When alarmed they all take into the water. The young birds can fly in July or early August after five week at ten to twelve weeks the family is ready to make long journey to Ireland of 3000 kilometre.

Ireland is the best wintering ground for the goose. About 6,000 come every year. You will find hundreds along the callows of the Shannon and Athlone, Sligo, and Mayo. Scattered flocks are found throughout the midlands.The most popular place is in Co. Wexford.The river Slaney covering about 2500 hectares and on it has pools of water which geese love. The area is well worth a visit in winter.

This area has a funny name. It is called the "Slobs" or "The Sloblands". Nearly half of the world's population come to spend the winter in County Wexford,in Ireland. I hope to go there soon and see them for myself. We watched a video of them last week.They make a lot of noise. If you go to Kilmore Quay, in County Wexford, you can get a boat out to the Saltee Islands and spend the day there. Don't forget to bring a picnic, as there are no shops on the island. in fact there are no people on it at all, it is uninhabitated.That means that no one lives there at all.
The stamp was issued in Phase 1 on January 16th. 1997.
Written by --:
Mark Stone.
Click on the stamp to hear the sound of the bird