The Pintail(£2)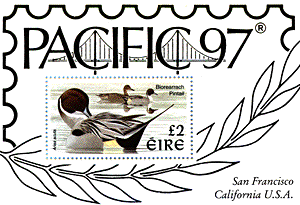 The pintail is a brightly coloured duck.
It is almost as big as the mallard and once seen it cannot be forgotten. Pintail's are mostly found along the sea coast.
You will find a lot of pintails in Castlemaine Bay in County Kerry and on the Wexford slobs. If you ever go there don't forget to bring your binoculars so you can see these beautiful birds. There are special huts on the Wexford slobs to get a good view of all types of birds.
The pintail rarely breed in Ireland and are scarce but are regular winter visitors. They arrive in Ireland in September and October. Between six and nine eggs are laid in May.
The ducklings hatch in just over three weeks
They leave Ireland in spring.
The drake or male pintail has a dark head ,white neck and a greyish body. It is a beautiful looking bird and has a beautiful tail.
The female is brown and speckled so that she is safe from her enemies as she sits on her eggs.
The stamp was issued in Phase 2 on May 29th. 1997 on a special souvenir sheet to mark the San Francisco Stamp Exhibition of that year.k
Written by --: Michael McDonald