Voyager Stamp Club
What is it ? --: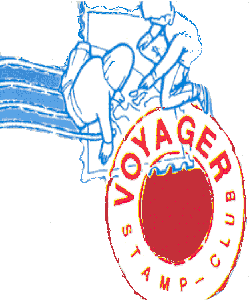 The Voyager Stamp Club is a groovy collectors club run by An Post here in Ireland. Since it started in 1991, it has been a huge success. At present there are over 150,000 young people have signed up as members and the numbers continue to grow. It is open to any young person from 5 years upwards to join.


What do you get ? --:

When you join you get an amazing "Collectors Kit" which contains almost everything you will need to enjoy this great hobby.
a fabulous A4 ring binder
a "Members only" card
a magnifying glass
a handy tweezers
a Voyager pen
a bumper pack of 100 stamps
a set of colourful sticker
Voyager Club Newsletter
a Collectors case
How much does it cost ? --:

The membership fee is £7.95( Irish Punts), if you pay by cheque or postal order or international money order. As an incentive to Irish collectors, membership only costs £7.00 if postage stamps are used. (i.e. £5.00 and £2.00 stamps), thus saving 95p on this already great value offer from An Post. How do I join ? --:

If you live in Ireland you can usually pick up an membership form at your local Post Office or contact -:

The Voyager Stamp Club, Room 2 -232
Philatelic Section,
GPO,
Dublin,1.
Ireland.

Phone 353- 1 - 7057141