My Music Projects
I've been playing music, on and off (more off than on, frankly), since 1982, when I bought my first cheap, crappy bass guitar. Which I still own...
In that time, I've played in two bands:-
4 FLAGS - a four piece guitar-based pop group which never really amounted to much, even though we did support Rob Strong (who?) on a number of occasions...
ANY CROWDED CEILING - which started off as a four piece guitar-based pop group, then evolved into a two piece electronic, studio-based operation, then evolved further to a one-piece, electronic, studio-based entity, which is what it was when I stopped being ANY CROWDED CEILING and started being me again...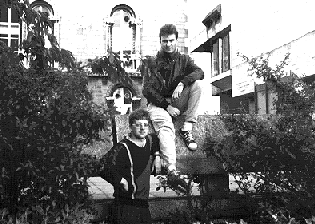 Here's a picture of Andrew Butterfield and myself (a.k.a. ANY CROWDED CEILING) taken in Trinity College, Dublin in 1986
I have done a number of recordings which are available for your perusal, if the price is right:-
RUBBER SOLE E.P. - recorded when I was ANY CROWDED CEILING. Features four songs, one of which prompted 2FM D.J. and doyen of the alternative, Dave Fanning, to utter "So that's what a Designer Hangover sounds like?". As if he was impressed... Cost to you, $6 including postage and packaging.
GOOD RIDDANCE - a demo album, if you know what I mean. Never formally released as I could never get any record company interested in it. I've had good reviews of it, however, from anyone who's given it a listen. Recorded and duplicated at home, so the sound quality is a leetle bit dodgy, but shursophwat? Yours for $5 including postage and packaging.
BREATHING SPACE - a demo instrumental album, meant to act as a stopgap between GOOD RIDDANCE and a putative third album which has never materialised. Same caveats re. sound quality. Yours for a mere $5 including postage and packaging.
As a special offer, GOOD RIDDANCE and BREATHING SPACE are available as a single C90 cassette for the princely sum of $9 including postage and packaging.
Or if you're a real glutton for punishment, why not go for the full monty? RUBBER SOLE and GOOD RIDDANCE/BREATHING SPACE for $14 including postage and packaging.
"And how do I avail of this wonderful offer?", you ask archly.
'Tis but a piece of widdly stuff; just click here and we'll negotiate terms, awright?

Member of the Internet Link Exchange