| | | |
| --- | --- | --- |
| | Ms. O'Donoghue's 2nd. Class 1998/99 | |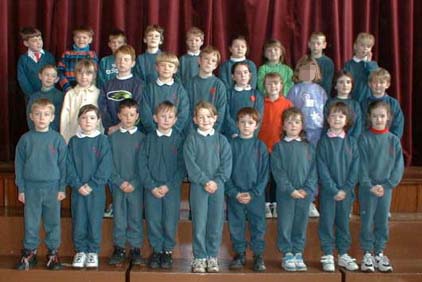 My Class

My name is Aisling. There are 31 people in my class. 30 children and 1 teacher. Our room is number 15. It's a odd number. Our teacher's name is Ms. O' Donoghue. We like her very much. We have kites, clouds and flowers on the window. We have real flowers on the window ledge. We have a computer in our class. We have a poster at the back of our class. It is a wildlife-at-risk one. There are Giant-Pandas, Orang-utans , chimpanzees ,tigers, and lots lots more .We do painting on a Friday and P.E. on Mondays and Wednesdays. We like our class.

My name is Tasmin. There are 30 children in the class. There are 16 girls and 14 boys in the class.
Our teacher's name is Ms.O 'Donoghue.
We are going into 3rd class soon.
I sit beside a girl, her name is Elizabeth.
We have a computer in our class.
We have a jungle in our class.
We made kites, clouds, and flowers.
I like our class.
Click here to see some of our Artwork

Welcome Page | About Our Area | About our School | Activities | Classes
Our e-mail address is: realtjunior.ias@eircom.net