West Cork Table Tennis Assoc.
"The Players."

Andrea comes from a strong table tennis family with a brother sister and both parents playing the game. Andrea is currently Munster No.1 & Irish No.4 at U12 & No.11 U14 in Munster. She is sponsored by Finacial Engineering. Andrea won a Silver medal with the U12 Munster Team at the Junior Interprovincials in Cavan in 1999.


Rebecca is one of a number of improving U17s at the Kinneigh Club and is currently ranked No.12 in Munster.


Emma Jane is currently ranked No.4 Cadet in Ireland and is sponsored by Celtic Table Tennis. Emma is also ranked No.1 in Munster. She is also the only West cork player who has been selected to play for Ireland when she was U12, Emma Jane collected he 2nd Cap when she was selected for the International Youth Cup in Belgium..


Ivan has been playing for Team Kinneigh for many years & is the Kinneigh Chairman. He played for the Cork Senior County 1998 Champions(The Wackers) & West Cork League Champions 2000. He is a qualified level one coach & brings great enthusiasm & imagination to the development of West Cork Table Tennis as well as coaching at three schools in Cork City. He is currently ranked No.2 Veteran in Munster


Ina is the Team Kinneigh Club Secretary & has been involved with the club for many years. Ina became the first winner of a major title in West Cork when she won the year's Munster Open 2000. in the Ladies Vet. final saw two West Cork Ladies play with Ina defeating Kerry Frazer in an exciting final. Ina has also represented Munster Vets at the 1999 & 2000 Interprovincial Championships.


Brian is currently the West Cork No.2 U17. Brian has shown some very good form this season.


Alan started the 1999 & 2000 season with some excellent performances and is currently ranked No.9 in Munster & No.1 U17 in West Cork. Alan was also part of the Clonakilty Community College team that won the West Cork Schools Cup in 2001.


J.P. is based in Macroom & has represented Munster at senior level on many occasions. He has a unique self taught "defensive" style that bewilders many. J.P. was also in The Wackers in '98 as well as previously winning the title with Macroom T.T.C. He has also a qualified County Umpire.He is ranked.



The Jepson Sisters have played for a number of years in West Cork. Sarah was first ranked at Under 14 level & has carried on playing as a senior even if this has been in Australia. Sarah has qualified as a level one coach. Kate also is an invaluable coach & has been ranked as high as No.1 Senior Lady in Munster. She is taking time out of the game to start a family.


Darren has won West Cork titles at most age groups & has finished 2nd in the Seniors for the last 3 seasons. Darren represented Munster U21 for the 2nd year in 2000 & won a gold medal at the 1999 Interprovincial Championships in Cork. Darren also plays for the Clonakilty Club in the West Cork League.


Owen has won the West Cork Senior Title for 3 years and has is ranked No.12 in Munster. Owen is Chairperson of the W.C.T.T.A, C.T.T.A & coaches in a number of clubs & schools in the region. Owen has captained various teams including the Munster U12, U21, U17, and the Irish Schools U14, U18 & National U17 Teams. He is also presently the Munster Rep. for the National Coaching & Development Committee & PRO for the ITTA in 2000-2001. A qualified County Umpire & Irish Coach.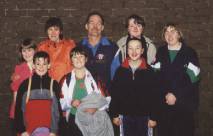 Hazel Anderson, Barry Hogan, Ina Shorten, Andrea Shorten, Ivan Shorten, Hamida Helen, Emma Jane Helen, Michelle Bennett.
Back To Top