Welcome to Ballymote
in the
Parish of Emlaghfad & Kilmorgan.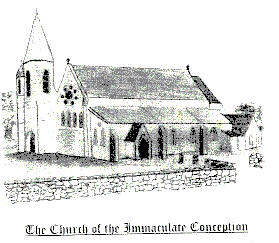 21st Sunday in Ordinary Time (C)....................................................... Luke 13: 22 - 30.



---

Caves of Keash

Ballymote Castle



FÁILTE
Ballymote is picturesquely situated under the shadows of Keash Hill, 15 miles south of Sligo town. Once the 2nd largest town in the county, it is an important historical, agricultural, and tourist centre.

It offers a number of competition stretches in fishing, with Perch, Bream, Pike, and Rudd in abundance. There are also a number of Trout Fishing Lakes, which attract visitors from all over Ireland and Europe.

G.A.A. football is played in Corran Park, while soccer is played in Bro. Walfrid Kerins' Park; the latter being named after a famous Ballymote man who founded the Glasgow Celtic Football Club.

Ballymote also boasts an 9 hole golf course, from which many excellent views may be enjoyed of the surrounding countryside.

Also are tennis courts, and one of the best provincial covered handball alleys in Ireland.
New updated November list of Missionaries from Ballymote on 'Reflection Page'.
---
  
  

Visitors Since
26th April 1998

  

Today's Date

  

Time in Ireland

  
Rev Fr James Mc Donagh
jmcdonagh@achonrydiocese.org

Rev Fr Greg Hannan
mghann@eircom.net

©1998 Parish of Ballymote

INDEX