K.T's Craft Page
Hi, Welcome to K.T.'s web page. This is my first web page and my partner has been nagging me for ages to get on with it, so here goes.
My name is Kate and I've been living in West Cork all my life. We live in a beautiful spot over looking the Kerry Mountains and we have lovely views of the sea.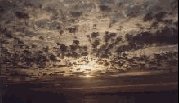 For the first few years living here we experimented with the self-sufficiency lifestyle keeping many breeds of fowl, goats, sheep and pigs. We also grew organic veg. for the market. Very rewarding but we never got to eat much veg, as there was such a demand for it. I spent the summers working in a local restaurant, hard work but good fun all the same. Owen at the time was working in the music industry recruiting new Irish talent for record companies. However I was still searching for something to fulfil my soul and creative urges. Owen had always wanted to move into fibre and that led us to the German Angoras the first mating pair came from Kerry. These creatures were to take up the next eight years. We kept seven Angoras one arriving unexpectedly. I found him on the floor of the rabbit shed and thankfully revived him in a bowl of warm water. I called him "Stew" he was the cheekiest of them all and became quite a pet.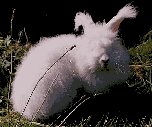 My rabbits all lived to a great age most reaching the age of seven, old for an Angora. They were groomed weekly and sheared four times a year. These heavenly creatures are snow white with red eyes and with long hair all over their body even on the soles of their feet.They are very quite and passive though the females can be territorial and unless brought up together are possessive of their space. I used to love going to their shed it was always so quiet and peaceful. Anyway these fluffy friends of mine led me into the world of spinning and natural dyes. Leaning to spin angora was not easy but it paved the way for sheep's wool, which was a doddle after angora.
These days I'm learning how to use a sewing machine making clothes and toys for our new arrival due in early December. I've spun wool for and knitted loads of cardigans, jumpers, booties, and hats and have also finished a Shetland shawl using the thinnest wool I've ever spun. It took forever but was worth the effort.
I have put a couple of my favourite links on the bottom of the page. There are some recipes taken from my book "Diary of a West Cork Dyer" on another page. I hope to have some photos of the rabbits and some of our work. (Check out the new gallery)



I am at the moment compiling a list of recommended craft shops around West Cork. Featuring the best of the talent in the area. Unfortunately what is sold as craft these days is not a substitute for the work produced by a talented local artist. A lot of shops will offer you "gift" items made in a factory on the other side of the country or possibly the world. When I`m on holiday I would like to see what is made locally and preferably by hand. Look out for a list of the best places to go for the real thing posted soon.