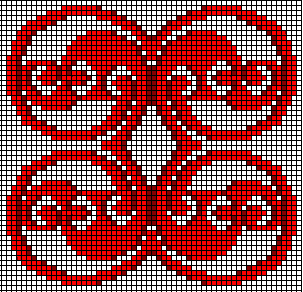 Celtic art dates back to the prechristian culture of the Celts. Many of the designs however can be found within the illuminated writings of the early monks. The combination of the pagan with the Christian has created a unique style of art that can be seen clearly in shop signs, restaurants, pubs and churches of modern day Ireland. Spirals, knots, zoomorphics and key patterns make up most of the designs. Transposing these designs in grid form makes their transference to canvas fairly simple. These designs can then be stitched with wool to make a cushion or as I do with silks & frame them for display.
Any of these designs can be divided into sections or increased by placing the tiles beside each other. "Xstitch square," makes a good "key pattern" filler or as a "knotwork" border.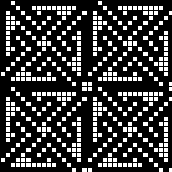 The Fuchsia
This flower was probably not native to this area but it has become associated with the west coast of Ireland.The bushes grow to enormous heights and produce an abundance of colour for much of the year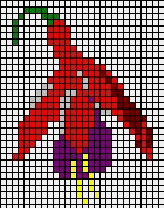 Here is a simple knot design which looks good on its own or a centre piece with a border surrounding it. This design I used for some white on white linen napkins.