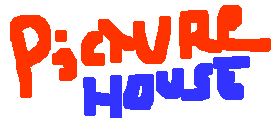 ---
1st June 1999 Duncan Maitland has left Picture House. He felt that he had to "Make himself the centre of his own universe again." This will come as a shock to most fans as his contribution to the band has been considerable. Quirky songs such as "Fan Club" have become his signature and he will be missed by many.
Not to be dwell on any set back the band are rehearsing with Aonghus's elder brother who is already an established guitarist and all appears to be going well for d'lads. For those living in West Cork there looks like there could be a couple of low key solo gigs from Duncan as he holidays in the West. No better place to get "Centred."

This is a cheap imitation of Lee Hawkins`s official site. It includes a lot of the stuff that nobody really wants to know & cares even less about. I have known the band far too long and it is finally beginning to tell. You could say I am the member of the "fan club." So when did it all start for me? I heard a demo which included "Make A Load Noise" and "Genocide." Two big bombastic rock anthems which, if heard sat in a Porche at 90 mph with the city lights of Dublin flashing past are pretty impressive. Only the Svengali driving would make one want to commit the latter to memory. The earlier release of "These Two Days" had passed over and was referred to in hushed whispers. Listening to it now still brings a lump to the throat (Bile?) However one track "Don`t Cry For Me No More" played with a sax solo could still rank fairly high.

After seeing the "d`lads" a couple of times I discovered they were suffering from Baggotophobia a little know ailment that a few Dublin bands of the late 80`s suffered from. The withdrawl method was employed and the gradual step toward the heady heights they have now achieved began. A couple of members of the band also showed alarming symptoms of Manageritis. These can only be spotted if you place a glass over the effected area and the rash doesn`t disappear. Luckily the treatment was started early and did not prove fatal for all their members. In a down stairs basement near Harolds Cross "The Picture House" had a practise room. With wall to wall posters, borded up windows, a scabby sofa and coffee making facilities we talked about how they would conquer the world. With a growing interest from across the water a couple of showcases went ahead with much expectation. An A&R from one company said they`d go nowhere if Dave performed with a flower painted on his jeans and the turned round baseball cap would just have to go. Musical integrity is naturally the main concern of A&R.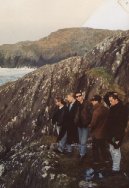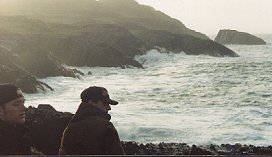 I have never seen those jeans again, the A&R guy became just as visible. So playing to packed gigs in front of company men and women all trying to see if anyone else could make up their minds, filled the dreams and ambitions of another bunch of adolescent wanna bees. Unlike many others however they had talent. It was unfortunate that the record company that actually full filled the main management credentials put their money where there mouth wasn`t. Around this time "Breathe In" slipped out between the crack.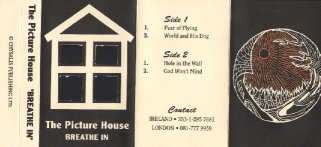 Chrysalis Publishing must be credited with their support of this smear of things to come. "Fear of Flying" which d`lads performed for Kate when she passed her driving test, is one of my personnel favorites. This version had the original line up with Nick Skelly pumped up on the lead electric and Paul Morgan thumping them skins. "World and His Dog" also appeared in its first incarnation. This track was co written by Pete Glenister a major behind the scene influence on Dave`s songwriting development. All wrapped up with a natty fold over cover.
After the heady heights of the "deal," the delay and rejection of any major release caused many an upheaval in the band and before they managed to slip out from company control Nick and Paul left the band.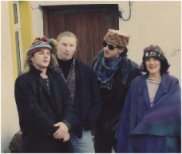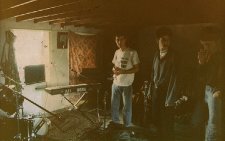 Paul travelled across Canada while Nick absorbed himself in his studio. The new line up included Aidan Pierce on drums and Duncan Maitland.Gone was the heavy rock influence and in came a subtlety that until then was not known to have been missing. The colabiration with Duncan has brought a refreashing approach to the new songs and vocally the impact has been huge.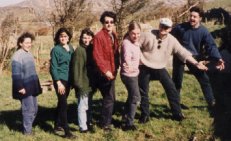 The management then moved into the capable hands of Pete Hawkins. With the release of "Shine Box" in 1996 and the dropping of "The" from the name things have moved swiftly, supports with the Corrs, Sawdoctors, Runrig and Bon Jovi as well as a number of packed gigs in the U.K.and loads of T.V. appearances, the Late Late Show being the latest.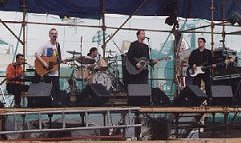 Aidan has left the band now and an old school friend of Dave`s John Boyle has added his own style to d`lads. Dave still appears to have trouble with his wardrobe and Aonghus seems to have settled with the yellow tinted specs. Duncan doesn`t seem to know whether he is going to keep the beard or not while Geoff has remained Geoff. Some bridges are burnt some things are learnt by tumbling into it, recall, re-learn, re-live, return and all of our memories are nothing only moments.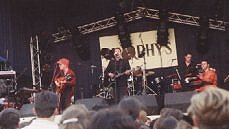 Designed by & Copyright © 1998 OKstudios
Most recent revision 12-1-2000