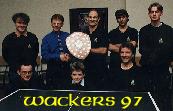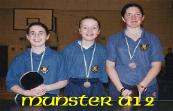 West Cork Sport
The W.C.T.T.A held the first combined Cadet & Junior Home Nations Champs. in Skibbereen at the begining of 1998. The event proved a great success with the Irish Junior Boys taking gold in the team and singles.

For Further Info On West Cork Table Tennis.

COACHING.
There are a number of coaching schemes in the area bronze, silver and gold awards are presented every year and all age groups are encouraged. We also use this opportunity to present table tennis not just as a competitive sport but the social pastime that is so important to the local community. The ethos of the sport in West Cork is very much along the lines of "Sport forAll."

West Cork Cricket
Cricket is very much a minor sport in this area but is played with much enthusiasm. In the last 3yrs a new league has been formed and three new clubs have been formed. I play for one of these new teams called Coolmountain. We have won the league for the last two years and the knockout cup back in 96. This year however the league and the knockout cup went to a very good side from Bantry. I also play for a combined West Cork team called the Rebels who joined the Mid-Week League this year and won it in our first year. Unfortunately because of the weather & the lack of facilities we mainly play on all weather pitches. Any team wishing to play any West Cork team can make contact through myself on our e-mail.
For results & further info on West Cork Cricket
Hot Rod Racing
Carbery Motor Sport Club was formed at the beginning of the 1999 season and is based near Clonakilty. Paddy Little who lives on the Mizen Head regularly races in the Class 1 competition.
You can find out more about Paddy his car and The Dermot Sheehan Racing Team on his own homepage. Just click here the race is about to start.