---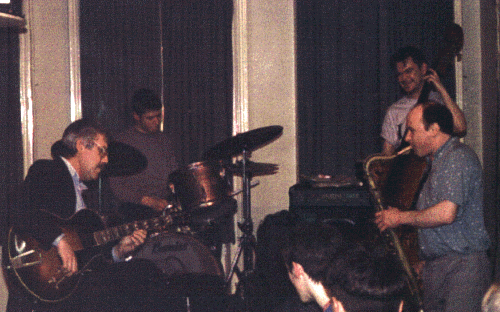 Despite a small audience, Dublin has a very active Jazz scene, with many smaller scenes in the other main Irish urban centres. Dublin is the home of the world renowned guitarist, Louis Stewart, who has played with such luminaries as Tubby Hayes, George Shearing, Dizzy Gillespie, Benny Goodman, Stan Getz, Michael Moore, Tal Farlow, Ronnie Scott and many others. Louis has recently toured Europe with George Shearing, and can be heard on Shearings most recent recordings, "That Shearing Sound" (Telarc Jazz CD 83347) and "Paper Moon" (Telarc Jazz CD-83375) .
While Louis is the "Godfather" of Jazz in Dublin, there are many other exceptional players, such as Noel Kelehan (Piano), The Buckleys - Richie (Sax),Michael (Sax), Hugh (Guitar)and Dick (Sax), Brendan Doyle (Sax),Tommy Halferty (Guitar), Mike Nielson (Guitar), Phil Mcdermot (Guitar), Frank Walsh (Sax), Jason O'Connell (Guitar), Tony "The Bop" Byrne (Guitar), Martin Curry (Bass), Peter Ainscough Drums), John Wadham (Drums), Dave Mason (Drums), Mike Nolan (Trpt and Flugelhorn), Keith Donald (Sax), Myles Drennan (Piano and Drums), Ronan (Bass) andConor (Drums) Guilfoyle,Karl Ronan (Trombone), Tom Harte (Guitar), Gerry Godley (Sax), Alan Shields (Bass), Niall O'Neill (Bass), Honor Heffernan (Vocals), Dorothy Murphy (Vocals).... The list is endless.
Many major international artists have played in Dublin and with Dublin musicians, including Keith Copeland, Scott Hamilton, Warren Vache and Ralph Sutton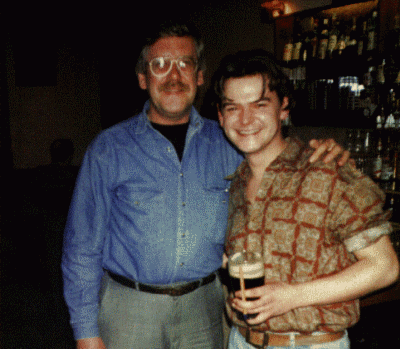 As well as individual talent, Some very fine ensembles have developed from the Dublin scene, including Ozone and Devsirme
Some "graduates" of the Dublin scene have ventured abroad, most notably Brian Dunning (Flute) - At present with the New Age band "Nightnoise" with ex "Bothy Band" members Triona Ni Dhomhnaill, and Micheal O Domhnaill (Brian has recently returned to make his base in Dublin); Drummer Stephen Keogh in Spain; David O'Rourke, (Guitar), now moved to New York. (David will have a new album soon available through the WWW); and Fintan O'Neill
Though most Cork people would be horrified to find an event of theirs included under a heading that includes the word "Dublin", one of the major events in the Irish Jazz calender is the Guinness Cork Jazz Festival, held in October. Adrian Power and Joe Healy have very kindly sent me over details of the 1995 and 1996 Festivals respectively, which can be found here.
Jazz in Dublin tends to be predominantly based in the Pub scene. Jazz residencies are difficult to keep track of (especially when you live in Wales), but the more regular gigs can be found here. I will do my best to keep this up to date, and will gladly accept any additions or comments you would like to send. In the meantime, be sure to check these out if you are in Dublin. Happy Listening!
© Copyright 1995 Happy Norwog Publications. All rights reserved