Sound & Lighting Hire
Concerts - Shows - Musicals - Theatre
Glinsk Song Contest 2002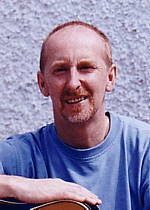 CP Audio provided the Computerised Scoreboard software for the contest again in 2002. The event took place on Sunday, July 7th.
The winning entry, "Guilty", was composed and sung by Jody Gallagher. His song received 70 points, gaining the lead after the third adjudicator's scores had been added to the scoreboard. Second place went to "Now The Party's Over", written by Tim Ambler and Colin Barlow, and sung by Tim Ambler, just one point behind on 69 points. Third place went to "Ripples Through Eternity" which received 67 points.
"Sunshine Tapas and Beer" written and sung by Willie Murphy and Buddy Boland, took an early lead with 9 points from the first adjudicator, but received only 4 points from the second adjudicator who awarded a maxumum 10 points to the eventual winning and third-place entries, and also to "Falling Out Of Love", written by Gerry Morgan and sung by Cathy McGuire. "Guilty" gained a single point advantage over "Ripples Throught Eternity" after the third adjudicator had awarded his points, and retained the lead as the remaining scores were added the scoreboard. Jody, who was delight at winning on his first time entering a song contest, wrote "I Want To Be A Millionaire" for Top Irish Comedian Conal Gallen, which entered the Irish Charts.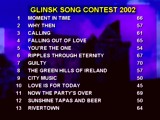 Mark Roberts, who sang "Mysterious Woman" for Ireland in the 1997 Eurovision Song Contest, and is currently starring in "The John Denver Story", entertained the audience while the ten adjudicators came to their decision on the thirteen finalists.
The 2002 contest, the biggest song contest in Ireland this year, attracted entries, from all over Ireland and England.
·2007 results
·2006 results
·2005 results
·2004 results
·2003 results
·2002 results
·2001 results
·2000 results
·1999 results
·1998 results

---