Sound & Lighting Hire
Concerts - Shows - Musicals - Theatre
Glinsk Song Contest 2005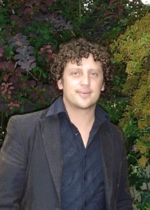 CP Audio provided the Computerised Scoreboard software for the contest again in 2005. The event took place on Sunday, July 18th.
The winning entry, "Smile For A While", was composed by Steve Carey and Cathal Molloy, and sung by Cathal Molloy. Their song received 67 points in the closest scoring final for a number of years. Second place went to "Never To Return", receiving 64 points, composed by John Finn, and sung by Ruth Dillon and Bernie O'Mahony. "One More Story", composed and sung by Stuart Crampton, finished third, a further point behind on 63 points.
"Smile For A While", the winning song, and "One More Story", the song that finished third, lead after the first adjudicator's scores had been added to the scoreboard. It was "Why Clouds", written and performed by Thomas Moore, that looked like a potential winner after receiving 10 points from three adjudicators. However, having consistently high scores mixed with consistently low scores (4 points from three adjudicators), Thomas's song finished fifth with 61 points, a single point behind "No Promises, No Questions", written and sung by Ursula Connolly and Susan Tomelty.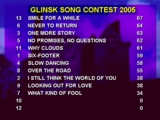 Donna and Joseph McCaul, who represented Ireland in this year's Eurovision Song Contest, entertained the audience while the adjudicators came to their decision on the finalists.
The 2005 contest attracted more than 100 entries from all over Ireland.
·2007 results
·2006 results
·2005 results
·2004 results
·2003 results
·2002 results
·2001 results
·2000 results
·1999 results
·1998 results

---